When Casino Meets Art
Popular art icons with casino themes
Every casino patron is familiar with the iconic painting of Dogs Playing Poker. This whimsical approach in a painting has won the respect of art critics and enthusiasts alike and still remains as a classic art piece, today. It's hard to imagine that this painting is actually more than a century old. This casino-centric masterpiece was painted by Cassius Marcellus Coolidge in 1903, according to 94.3 Loudwire.
Image from Wakpaper.com
This simply goes to show that art knows no time or place. Today however, we rarely see casinos as the subject of paintings, since we often turn to photographs for a glimpse of a certain place or event. In fact, casinos in general are seeing a decrease in their visitors, especially with the rise of mobile casinos. But like their counterparts, these mobile casinos display art in their interface. We often find digitalized and cartoonish depictions of slot machines and poker games too.
Image from pocket fruity
So why is casino art becoming a trend? Casinos are the spitting image of today's entertainment industry—busy and always on the go. With so much going on inside these casinos, artists who are looking for subjects or perhaps inspiration for their next paintings look to a vibrant setting in casinos. One such artist is Lisa Esherick, a casino fan who describes herself as a "figurative painter with abstract leanings."
"I am interested in the expressive nature of painting. I want to convey the emotional presence that I find in the still world of objects. I want to feel the space between things and hear the silence. I want to explore shadowy things — things hidden from view, what cannot quite be identified, things unknown that yet have great power in our lives," Esherick said as she described her passion in Art Slant.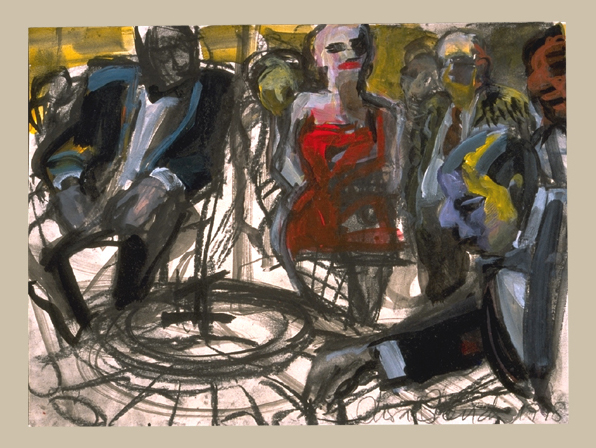 Image from lisaesherick.com/
Certainly, her expertise in art manifests well in her depiction of casinos. The expressive nature of her work fits the casino setting very well, where subjects often display the most natural of human emotions. Esherick captures the buzzing scene of poker games. And at the same time, her interpretation of well-composed poker players are well renowned by the art community as one of today's best in figurative art.
This unique approach is even evident in today's booming casino industry. Art is no longer about natural landscapes, or realistic expressions. Art is a tool in which we view realities. In a day and age where casinos have moved from brick and mortar casinos to virtual ones, we also find a new age of art in the digital world. Through the eyes of artists, casinos breathe new life to the canvass.